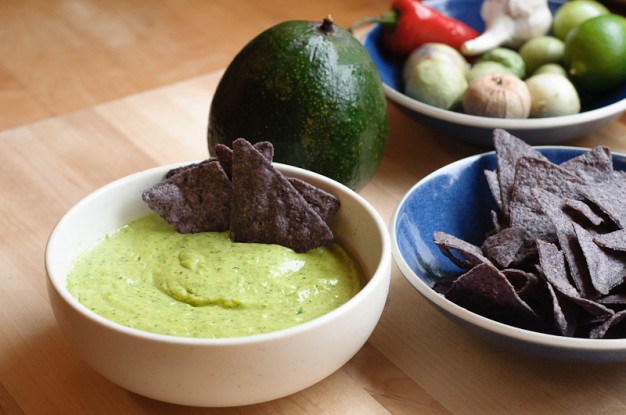 Avocado-Tomatillo Salsa
Many years ago. Gulp. More than two decades ago, when I lived in the Bay Area, I would visit friends in the Mission District of San Francisco and inevitably eat at one of the great neighborhood taquerias. Many of them keep little jars of an avocado-based salsa on the tables, to add a little creamy drizzle on your taco or burrito, or just for dipping tortilla chips. This is my version of that sauce, which I like a little bit thicker and amped up with some heat and spice.
I used these gigantic Reed avocados from ChefShop.com. They are easily twice the size of a regular Hass avocado, and smooth, buttery and sweet. You can of course make the recipe with Hass avocados, but if you have the opportunity to try the Reeds, I think you'll love them. Peter and Bonnie Herman grow them down in California on enormous old trees, and they are something very special.
And yes, by the way, my links to ChefShop are affiliate links. I'm proud to promote what Tim & Eliza are doing: bringing incredible ingredients to cooks and supporting small farmers and artisanal producers. While you are at it, you should sign up for the ChefShop.com newsletter. They are always packed with fascinating information and products you can't find anywhere else.
The dry-roasting method for preparing the tomatillo, jalapeno, garlic, and shallot is very traditional in Mexican cuisine. It takes some of the harsh edge off of the raw flavors while introducing more complexity and sweetness. The garlic I used is also from ChefShop – a nice hardneck variety grown on Whidbey Island, not far from Seattle. You may also be able to find hardneck garlic at your local farmer's market. The flavors are better than the softneck varieties that are typically grown in China and imported to the US.
Jalapenos vary widely in their heat level, so be sure and taste before committing on how much to use.
Avocado and Tomatillo Salsa
Vegetarian, vegan, and gluten-free
Put a small skillet over medium high heat. Without using any oil, add the tomatillos, garlic, jalapeno and shallot and dry roast, turning occasionally, until there are many black spots on the vegetables, about 5 minutes.
Put the tomatillos and shallot in your blender jar. Peel the garlic and add it to the blender. Halve, seed, and stem the jalapeno and add it to the blender.
Add the avocado, lime juice, cilantro, cumin, and salt. Process on high speed until smooth. Taste and adjust seasoning – it may need more lime juice or salt. If it needs more heat, judiciously add cayenne or any chili powder you prefer.
This content was originally published here.