This healthy Cookie Dough Brownie Baked Oatmeal is the ultimate decadent dessert for breakfast, you won't believe that it's made with real ingredients! It's also gluten-free, high protein and has a vegan option!
Let's talk about the most important meal of the day, AKA the best meal of the day, breakfast.
It's no secret that we are HUGE fans of breakfast, just look at most of our recipes. We are trying to incorporate more "non-breakfast" recipes for you in this blog but don't worry, we don't plan on stopping breakfast recipes anytime soon, just including more variety and posting more per week since finals are over. It's an obsession. 
Now, when we do breakfast, we go (mostly) go the sweet/dessert-like route, and we go hard, especially when it comes to oatmeal. Out of our top 10 most popular recipes, over 1/2 of them contain oats. Some of these that are on the list are this glorious Breakfast Pizza, this cake-like oatmeal and cookie monster's favorite granola!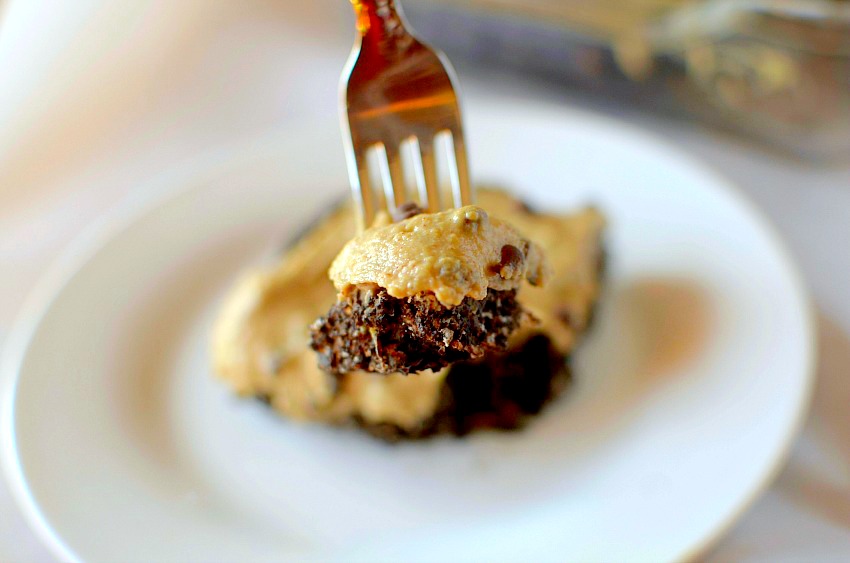 Now let's get on to this new oatmeal recipe which has to be our new favorite to-date because, guilt-free cookie dough and brownies for breakfast! I don't think that you could get any better than that. It all starts a dense and fudgey brownie baked oatmeal layer made with dark cocoa powder for extra richness. You could totally use regular cocoa powder but it won't be as rich and chocolately. This baked oatmeal wouldn't be complete with out the cookie dough frosting which comes from Arman at The Big Man's World and his genius Classic Cookie Dough Dip! Arman's cookie dough dip makes the perfect frosting for this brownie baked oatmeal!
You won't believe that this guilt-free Cookie Dough Brownie Baked Oatmeal is completely gluten-free, high in protein, and has a vegan option making it a tasty and nutritious breakfast that tastes like dessert!
 There's not much else to say about this, you just need to make it right now!
Ingredients
Instructions
Schema/Recipe SEO Data Markup by Yummly Rich Recipes
This Healthy Classic Cookie Dough Recipe from the Big Man's World and around 5 tbsp of almond milk, or until "frosting" consistency
Like This Recipe? Pin For Later!
Want More Guilt-Free Oatmeal Recipes!?
This content was originally published here.