Omam Fish Curry Recipe / Ajwain Fish Curry – Post Pregnancy Food Recipes
Spread the Joy!
I have posted so many fish curry recipes so far..Among that my favorite ones are chettinad fish curry, kerala red fish curry, malabar fish curry and many other too..You can check all my fish curry recipes..
Now coming back to this curry recipe. This is one recipe which i had daily as my post pregnancy food. Even though my mom is a vegetarian she made this curry for me, it has ajwain / omam in this which helps increase milk during breast feeding. You can check all my post pregnancy recipes too..
There is a veg version of this curry, which i will post very soon..So try this out and let me know how it turns out for you..
Preparation Time : 5 mins
Cooking Time : 35 to 45 mins
Fish Pieces – 300 grams ( I used Therachi)
Brinjal – 1 large cubed
Drumstick – 1 small chopped and slit in the middle
Dry Red Chilli – 4 to 5
Coriander Seeds / Mullu Malli – 1 tblspn
Curry Leaves a small handful
Method:
Heat oil in a kadai, add in all roasting ingredients except coconut and saute for a min. Add in coconut and roast till it gets golden and well roasted. Take them in a bowl and let it cool for 5 mins. Now take the roasted mix in a blender and make it into a smooth puree by adding some water.
Now take drumstick, raw mango, brinjal and curry leaves in the same kadai. Add in some water, coconut masala and salt. Cover this and cook for 10 mins till the veggies is cooked.
Now add in tamarind pulp and mix well. Boil this for 5 more mins.
Add in fish pieces and cook for 7 to 10 mins till the fish is cooked.
Serve this curry with rice.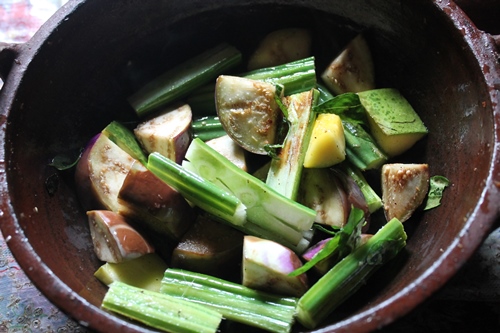 Take the veggies in a kadai
I don't have omam, can i replace this ingredient with another spice or not ? Thank u
looks delicious!!! will try it out this Sunday! 🙂
This content was originally published here.