Vegetarian and Vegan Thanksgiving Recipes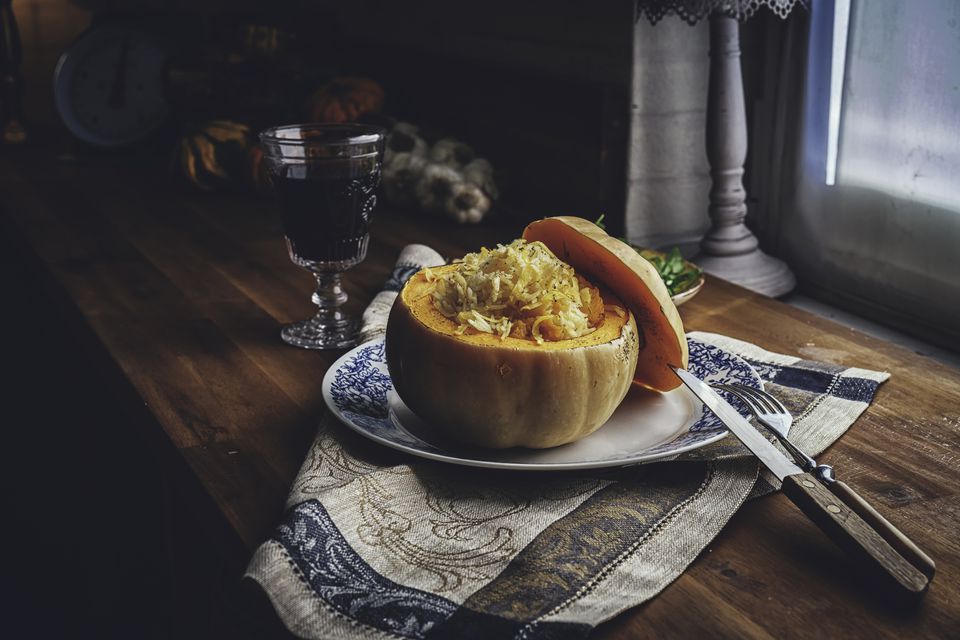 John E. Kelly / Getty Images

Who needs to wait for special occasions like Christmas or Thanksgiving to cook stuffing? Stuffing (or dressing) is a vegetarian Thanksgiving dinner dish which can be enjoyed year round. Don't you just love the way all the fresh herbs smell while cooking? Try a classic cornbread stuffing or a flavorful gluten-free stuffing (pictured). Get creative with vegetarian quinoa stuffing.

Getty Images

Courtesy of Tofurky

Tofurky's not the only player in town anymore! Several brands of vegetarian and vegan meatless turkey substitutes have hit the market over the past few holiday seasons, and this guide will introduce you to the best of them. Can't decide which to try? Have one for Thanksgiving, one for Christmas and try a third for Easter!

Simone Conti/EyeEm/Getty Images

As a light alternative or accompaniment to a Tofurky or another vegetarian turkey, try one of these Thanksgiving soup ideas for dinner. Eating soup as a Thanksgiving entree means you have plenty of room left for stuffing, potatoes, and pumpkin pie! Or, if you're new to cooking vegetarian food, soup is an easy and stress-free choice. Try some of these colorful and easy vegetarian Thanksgiving soup ideas.
Pictured: Butternut Squash Soup

Pumpkin pasta by Tania Mattiello / Getty Images

Dorling Kindersley / Getty Images

Making a meatless vegetarian gravy is more of an art than an exact science, as timing, stirring and heat are everything. Most vegetarian gravy recipes are made from a vegetable broth base instead of pan drippings or animal fat, and many recipes add extra flavor by using mushrooms, fresh herbs, or other flavor enhancers such as miso or nutritional yeast.

Continue to 9 of 10 below.

Michayla.wyatt95/ Twenty20

The raw vegan trend may not be for everyone, but if you've got a guest on a strict raw food diet or if you'd just like to add some lighter foods to your meat-free Thanksgiving menu, you'll find plenty of ideas to choose from here, including a raw vegan appetizers, fall soups, main dish suggestions, and even a raw vegan food pumpkin pie for dessert.
Pictured: Raw vegan cranberry pie

TheCrimsonMonkey / Getty Images

Vegetarian or vegan Thanksgiving leftovers aren't much different than regular leftovers. Extra Tofurky makes for great next-day sandwiches, just like regular turkey, for example. But, if you're looking for some more tips and ways to reuse and disguise mountains of mashed potatoes, here's plenty of Thanksgiving leftover ideas, just for vegetarians and vegans.
This content was originally published here.